---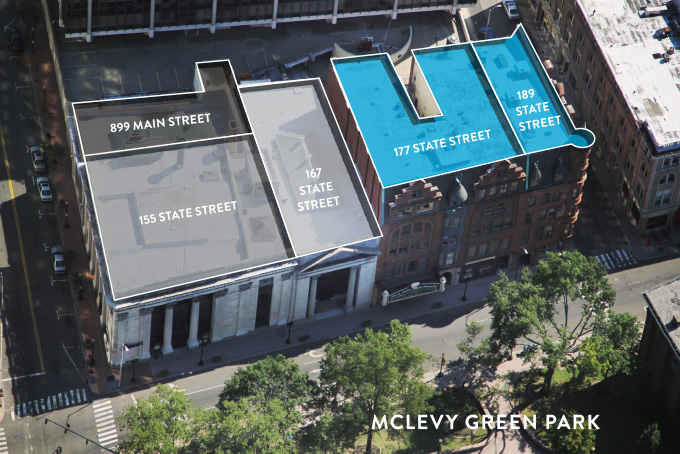 ---
McLevy Square is a historic district in downtown Bridgeport, Connecticut that features a blend of apartments, retail, restaurants, entertainment and office space. The total project includes:
899 Main Street / Office Space
Three former office/storage spaces located on the south eastern portion of the project will be converted into a 2,450 SF commercial office space. This unique space features high ceilings and decorative architectural features. Base building work includes a new entrance off of Main Street, dedicated bathrooms, and historic restoration of the interior.
---
167 State Street / The Stress Factory Comedy Club
The former Playhouse on the Green theatre will be transformed into a 300+ patron comedy club, The Stress Factory. This well-known, New Jersey-based comedy operator will host some of the country's top comedic performers while offering full service food and beverages. More info can be found at www.stressfactory.com
---
155 State Street / Harlan Haus Restaurant & Beer Hall
The historic bank hall will be transformed into "Harlan Haus", an authentic German beer hall by chef and restaurant owner Stephen Lewandowski. This unique concept will generate a regional draw to the project and, along with the Comedy Club, will make the project a nighttime entertainment destination.www.harlanhaus.com
---
177 & 189 State Street / Apartments & Retail
The first floors of 177 and 189 State Street have been renovated into three separate commercial spaces and common areas for the residential apartments above.

The 2nd through 5th floors of 177 and 189 State Street have been converted into thirty-two new one and two bedroom apartments with modern finishes and historic, loft-style character.
---
---
For More Information:
For additional information about this property, its features and availabilities, please contact:
Scott Raasch, Director of Business Development
T: 203.286.5813 | sraasch@forstonecapital.com